Source
Wondering what that escalator is doing up there? Will get to it in a second.
I thoroughly enjoyed the last Easter holiday so much that I really wish I could rewind and go over it again.
Been promising to take the boys to the Cinema for a while and we finally chose 'Easter Monday' of all days to visit the one at Ikeja City Mall.
You also want to ask what got into me, right?

You know I'm still a 'learner' nau.
All I know is I hopped in the car with the boys and drove straight down to the Mall hoping to see a good movie together and also pack in some fun at the Play Zone.
Didn't need a soothsayer to tell me I don pass my boundary on jamming the long vehicular queue leading to the entrance of the Mall.
Even if we wanted to turn back, na to take one way and risk the wrath of any law enforcement agent around so we had to see the mission through and persevere till we 'enter' the Mall.
The crowd was more than crazy; it appeared the whole of Lagos chose the Mall as the only 'authentic' Galilee to meet Jesus, all at the same time.
'Guys, sorry there is nothing we can do here because of the crowd, do you want to go to Fun Place?'
'Yeeeesss'
Side-eyeing the escalator. 
I smell trouble.
"So let's go.'
'Mummy, please we want to go on 'it'
'What?
'No, we can't.
'Yes mummy, we can. (confidence or faith?)
'Look at everybody going on 'it'
'We are not everybody…I know you won't like it.
'But we like it already. Mummy, pleaaaaaassse'
'D2 will start screaming and crying like he always does'. (Ok…this should work)
'No, mummy, I wont cry. I promise.
'Yes, you will. I promise you, you won't like it (Three can really play that game)
'Mummy, we like it and we won't cry…you will see. (This mummy here doesn't want to 'see')

'You know you can't get off mid-way if you start crying on 'it'
'We know, mummy…let's get on it first
'You might injure yourselves on it.
'No mummy, we won't…you'll see.

This could be me but I hate escalators!
'But...'
Mummy finally ran out of excuses and rejection tactics.
We are seriously reversing roles here, people. Those little ones have got more confidence than some-hundreds-scared-silly mamas put together.
Yipee…the ecstatic feelings could not but shine forth. Thankfully, nobody is paying attention to us as the hustling and bustling went on around us. People milling all around us. Hopping on. Stepping off. Having ecstatic fun at the Mall.
Did I already let out my well guarded secret? Well, on the very off chance I didn't…I HATE ESCALATORS.
Yeah, that's for the records.
Who knew there's even a fancy word for the fear of escalators?
Escalophobia
There. Thank me later.
Big fanciful name for a tiny fear of moving stairs.
Why would a grown up woman be terrified by escalators to the point of doing some mental Usain-Bolty sprints every time she sees one? Especially after several preparatory years of stairs-climbing + elevator-riding?
 I recall the last time I got on one. I had gone to see a prospect in my marketing hey days at one of the banking headquarters and although no personal ugly incidence…like falling over…marred that experience but my subconscious imagined all sorts (as I watched a lady almost falling flat) that I told myself I was never getting on one again.
Until Easter Monday, 2015, that is.
Always regarded the slinky moving stairs with a high degree of suspicion everytime thereafter that you would think they actually contributed to the start of the second world war.
Ok.
Take a deep breathe. Ready. Steady.
Don't step on 'it' until I say so. When you hop on, hold on to mummy with one hand and the side rail with the other. 
Mummy needs the assurance that she is safe in your little hands
Ready?
Now…
We hopped on…legs trembling…heels dug in…heart beating wildly until it steadied as the moving stairs rolled along to the joyful laughter of the boys.
And we are at the top.
We did it. No panic attack, no screaming fit, no feet trapping, no ankle breaking, no falling over and none of those scenarios that had always held my subconscious back from hopping on the escalator.
Fake Evidence Appearing Real.
I conquered it, together with the boys.
We did it. And we deserve some standing ovation topped with a golden goblet.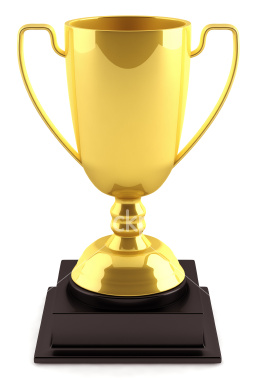 Source
Some mental fist pumping and back -slapping is in order, donchu think?
Maybe you also fear escalators like me.
Or you desperately want to move out of your comfort zone but dread the unknown…
What is your escalator?
What holds you back from getting on it?
Maybe that business idea has become a larger than life escalator baring its fangs at you so much that you fear taking the first step.
You want to write or draw or sing but dread rejection or you fear you are not good or talented enough?
If we succumb to crippling fear and fail to take the first step towards getting on the escalator, what could happen?
Nothing.
Exactly.
We venture nothing, we gain nothing.
On the flip side, if we get on it, we might just be on our way to a whole new discovery…a new world of victorious independence…gems of wisdom…liberating success…breakthrough…exhilarating fulfillment…mountain-top view…or even the Play Zone that beckons at the top of the stairs. 
So. Go on. Take a deep breathe and Step on it.